Anxiety Treatment In Oshkosh, WI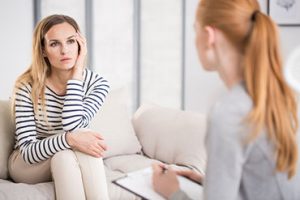 Anxiety does not discriminate. It affects people from every walk of life, and it can feel like a huge burden over time.
Anxiety treatment is designed to help you control your symptoms. Understand what triggers your anxiety and how to change those reactions to those triggers. Sherman Counseling is a trusted provider of anxiety treatment, with more than 30 counselors and therapists near Oshkosh, WI.
We will match you with the right provider for your needs. Call 920-230-2065 to get started.
Will Anxiety Treatment Work For Me?
We have a high success rate with our anxiety treatment programs. That is because we take a personalized approach to counseling and therapy. Your anxiety therapist will listen to your concerns, fears, lifestyle, habits, and goals to create an individualized treatment plan for you. During your anxiety therapy, you will…
Pinpoint Your Anxiety Triggers and What Makes Your Anxiety Worse
Find out How to Cope with Your Anxiety on a Daily Basis
Reduce the Frequency and Severity of Panic Attacks, and Learn How to Stop Them When They Occur
Work through Your Phobias, Fears and Insecurities
Get Personalized Anxiety Treatment Tailored to Your Life
Explore Specialized Services, Such as Pain Management and EMDR
Our therapists have built strong referral relationships in the Oshkosh community. In fact, 85% of our clients are direct referrals to a specific provider. We will match you with the best counselor for your needs so you can get effective, long-lasting anxiety treatment. To learn more about our services or to schedule an appointment with an anxiety therapist in Oshkosh, WI, call 920-230-2065.
No Lengthy Referral Process – You Don't Need Pre-Approval From A Doctor
Our clients love our quick, no-hassle appointment process. You won't have to go through a lengthy referral process to speak with a therapist. We can get you in as early as the next day. No pre-authorizations and no hoops to jump through. Just accessible, affordable mental health services. To learn more about anxiety treatment, depression treatment, and other individual counseling programs in Oshkosh, contact Sherman Counseling today.
Speak With An Anxiety Treatment Expert In Oshkosh, WI By Calling 920-230-2065


Contact Sherman Counseling
Call 888-474-1344 and speak with one of our friendly intake specialists, or email us using the form below: