Couples Counseling In Green Bay, WI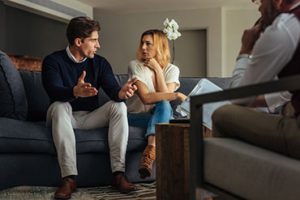 If you're reading this right now, chances are you're facing some sort of struggle in your relationship. It may be stress, poor communication, infidelity, intimacy issues, or simply not feeling connected any longer. Couples counseling is designed to resolve these problems through honest communication and trust-building.
Whether you've been together for a year or you're celebrating your 50th anniversary, you can benefit from couples counseling. Call our Green Bay, WI therapist office at 920-544-5294 to schedule a confidential appointment.
Resolve Long-Term Conflicts And Prevent Future Arguments
Do certain fights seem to come up over and over again? Circular arguments often occur because they were never fully resolved. With couples counseling, you can bring closure to these discussions and avoid similar ones in the future. Let go of longstanding grudges that have pushed you away from one another. Your couples counselor in Green Bay will be there to help every step of the way.
Couples counseling aims to answer important questions, such as:
What Is the Most Prominent Source of Arguments in Your Relationship?
How Can You Improve Your Communication?
What Compromises Can Each of You Make to Improve the Relationship?
Are There Certain Disagreements That Come up Time and Time Again?
Are There Issues from the Past That You Have Not Fully Dealt with Yet?
Are You Holding on to Grudges or Expectations?
Are You Facing Issues as Individuals, Such as Low Self-Esteem, Financial Stress or Depression?
How Can You Work Together to Strengthen Your Relationship through Couples Counseling?
The answers to these questions are the key to a lifetime of happiness as a couple. Call our Green Bay, WI office at 920-544-5294 to start your journey through couples counseling.
Adjustable Couples Counseling Strategies That Fit Your Lifestyle
At Sherman Counseling, we do not follow a rigid guideline for counseling services. We are an unaffiliated therapist office in Green Bay, WI, which means that we can adapt our counseling to fit each person or couple. Your couples therapist will find the best counseling solutions for your needs as a couple – strategies that fit your lifestyle, your personalities, and your life goals. This is why our couples counseling programs have such high success rates, because each couple gets individualized care and personalized advice. Give us a call to schedule your confidential couples counseling appointment.
Contact Sherman Counseling In Green Bay, WI To Learn More About Couples Counseling | 920-544-5294

Contact Sherman Counseling
Call 920-733-2065 and speak with one of our friendly intake specialists, or email us using the form below: