Teen Counseling Near Greenville WII
Today's teens face unique challenges. Peer pressure and bullying remain ever-prevalent, but social media has created a new slew of struggles for teenagers to overcome. Sherman Counseling offers personalized teen counseling near Greenville WI. Each teen is matched with the ideal therapist for their specific needs, and counseling appointments are compatible with insurance.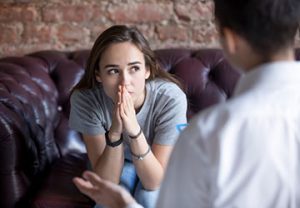 A Comfortable Space Where Teens Feel Safe and Respected
Personalized Coping Strategies with Proven Results
Judgement-Free Therapy for Teens of All Lifestyles
Positive Support for Teens and Their Families
Communication Strategies That Work
Teen Substance Abuse Treatment
Self-Harm Prevention and Self-Esteem Building
Quality Therapy from a Respected Counseling Center near Greenville WI
Teen counseling is compatible with many insurance plans. Sherman Counseling is an in-network provider for WPS Health Insurance, WEA Trust, Network Health, Arise Health Plan, Common Ground Healthcare Cooperative, Humana, BlueCross BlueShield, and Aetna. We also accept insurance with out-of-network coverage. Contact us at 920-230-2065 to learn more.
Personalized Counseling Solutions For Teens And Their Families
Each person has a unique set of circumstances, challenges and goals. Our therapy programs are personalized to fit those unique needs. Clients learn proven coping strategies that are tailored for their lifestyle and personality. Couples and families can also enjoy custom mental healthcare with long-term results. Whether you're looking for individual therapy, family counseling, child counseling or teen counseling near Greenville WI, we have a specialist on staff to assist you.
Confidential Counseling Services For The Whole Family
Our therapist office provides counseling solutions for all age groups. Many of our clients use a combination of family therapy and individual teen counseling to address issues in their lives. Individual therapy allows teens to work with a therapist one-on-one. Family counseling offers a comfortable setting for effective conflict resolution. Explore our range of counseling programs near Greenville WI:
Family Counseling
Couples Counseling and Marriage Counseling
Depression Counseling
Anxiety Counseling and Phobia Treatment
Grief and Trauma Counseling
Anger Management Therapy
Child Counseling and Teen Counseling
Medication Management
Pre-Marriage Counseling and Divorce Prevention Services
And Other Counseling/Psychiatry Services
For More Information About Teen Counseling Near Greenville WI, Call 920-230-2065

Contact Sherman Counseling
Call 920-733-2065 and speak with one of our friendly intake specialists, or email us using the form below: