Anger Management In Wisconsin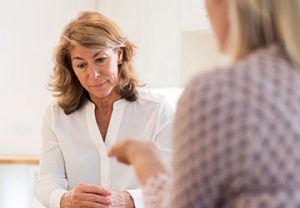 Do you feel like you're constantly holding back your anger? Do you have a hard time controlling your emotions after your anger is triggered? Have your anger management issues caused a strain on personal relationships? These are all reasons to consider anger management counseling.
Sherman Counseling offers anger management in Wisconsin through licensed and experienced therapists. Our specialists also provide depression counseling, anxiety counseling, couples counseling and other counseling services. To schedule an appointment with a therapist near you, contact us at 920-230-2065. We have several counseling centers in Wisconsin with extended hours for your convenience.
Tested And Proven Anger Management Solutions
At Sherman Counseling, we focus on the underlying issues that cause anger issues. For instance, you may have gone through a traumatic event that altered your emotional reactions. You may be dealing with extreme stress that is taking a toll on your mental health. Whatever the case may be, you can work through those struggles with anger management in Wisconsin.
Figure out the Root Cause of Anger Management Issues
Improve Communication Skills and Resolve Conflicts with Loved Ones
Receive Anxiety Counseling, Depression Counseling, and Other Counseling Services as Part of Your Anger Management in Wisconsin
Work with a Licensed Therapist Who Specializes in Anger Management
Learn Personalized Coping Strategies That Suit Your Lifestyle and Personality
Get Positive Support in a Judgement-Free Environment
Enjoy Affordable Anger Management Compatible with Many Insurance Plans
This all starts with a simple phone call to Sherman Counseling. Reach out at 920-230-2065 to learn more about anger management in Wisconsin or to schedule an appointment for therapy.
Confidential And Comprehensive Anger Management In Wisconsin
Your privacy is well protected at Sherman Counseling. All therapy sessions are completely confidential, and your therapist will not judge you for your thoughts, feelings or experiences. We offer comprehensive anger management in Wisconsin, which means that you can address all your mental health needs in one place. Work through issues with depression, grief, anxiety, and much more, all with the help of a licensed therapist. Give us a call to start your journey with anger management.
Call 920-230-2065 To Schedule An Appointment For Anger Management In Wisconsin

Contact Sherman Counseling
Call 888-474-1344 and speak with one of our friendly intake specialists, or email us using the form below: