Anxiety Treatment In Wisconsin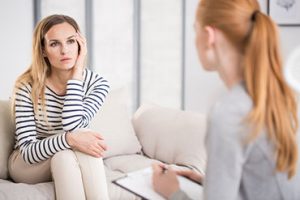 Everyone experiences anxiety, but for some, those anxious feelings are persistent and ongoing. The anxiety may come at an unexpected time, and it may stay much longer than you'd like it to.
If you have felt overwhelmed with anxiety, there are therapy programs available to help you with your symptoms. We offer affordable anxiety treatment in Wisconsin, right here at Sherman Counseling.
We have specialists in Oshkosh, Green Bay, and Appleton that provide testing and provide anxiety therapy. Identify your anxiety triggers and learn how to overcome them through our personalized anxiety treatment programs.
Personalized Anxiety Treatment Tailored To Your Needs
Every person is unique, with his or her own set of life experiences and interpretations. The events that spark your anxiety will be completely different from everyone else. That is why we tailor our anxiety treatment to match our clients. Your anxiety counselor will listen to your concerns, feelings and memories to help you determine what is causing your anxiety. Then he or she will give you the tools to shake off those anxious feelings in the future. Along the way, you will…
Identify the Root Cause of Your Anxiety
Determine What Triggers Your Anxiety Symptoms and Learn How to Control Your Reaction
Talk about Your Fears and Concerns in a Safe, Relaxing Environment
Completely Confidential Anxiety Treatment with Multiple Locations in Wisconsin
Affordable Pricing – We Work with a Range of Insurance Providers
Specialized Anxiety Treatment for Trauma, including TF-CBT and Brainspotting
Many of Our Patients Overcome Anxiety Symptoms without the Need for Medication
Effective Anxiety Therapy from a Specialist with Years of Experience
We will match you to the best anxiety counselor for your specific needs. We have over 30 mental health professionals on staff across four convenient locations in Wisconsin. To learn more about anxiety treatment or to schedule an appointment with a therapist near you, contact the Sherman Counseling office closest to you.
Same-Day Or Next-Day Appointments Available
Sherman Counseling is an unaffiliated outpatient anxiety treatment center. In simple terms, that just means we play by our own rules. We do not have to abide by strict, lengthy referral processes that many Wisconsin healthcare networks require. Our scheduling is flexible, and our anxiety treatment programs are completely client-focused. Some patients are able to see an anxiety counselor the same day or the next day, depending on which specialists are working at the time. We provide top-quality counseling solutions when you need them most. Give us a call today to get started.
Contact Sherman Counseling To Learn More About Anxiety Treatment In Wisconsin


Contact Sherman Counseling
Call 888-474-1344 and speak with one of our friendly intake specialists, or email us using the form below: