Anxiety Treatment In Green Bay, WI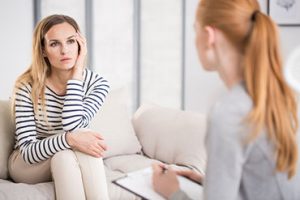 Do you feel like your anxiety is holding you back in life? From social isolation to fear and depression, anxiety can manifest itself in many ways.
No matter what type of anxiety disorder you have, there is a solution for you. Our anxiety treatment programs in Green Bay, WI are designed to help you regain control of your life.
Your anxiety therapist will adjust your counseling to fit your needs, giving you the best chance at a low-stress, healthy and positive experience. If this is something you're interested in, contact our Green Bay office at 920-544-5294.
Personalized Anxiety Treatment Focused On Your Needs
At Sherman Counseling, we believe in client-focused therapy. We don't abide by formal guidelines on how anxiety treatment is 'supposed to work.' Instead, we listen to our clients and adjust our counseling strategies to work for them. Your past, your personality and your perspective will all play a role in your anxiety treatment. That's what gives you the best chance at success.
Figure out What's Causing Your Anxiety and How You Can Control Your Reactions
Learn Effective Ways to Stop Panic Attacks
Reduce the Severity and Frequency of Anxiety Attacks
Discover Ways to Reduce Anxiety Symptoms Based on Your Lifestyle and Experiences
Work with an Anxiety Specialist in Green Bay, WI
Get Help for Depression, Relationship Issues, Eating Disorders, and Other Obstacles You May Be Facing
See an Anxiety Therapist Right Away – We Offer Next Week and Next Day Appointments
Reverse Negative Thinking Patterns That Make Anxiety Worse
Talk about Your Thoughts and Feelings in a Safe, Comfortable Therapist Office
Our therapy services are completely confidential, so you can speak out with confidence during your anxiety treatment sessions. No matter what phobias, fears or obstacles you face, your anxiety therapist will help you through them. Contact our Green Bay office at 920-544-5294
Transparent Pricing – We Verify Insurance Before Your First Appointment
Before you start your anxiety treatment, we will verify your insurance coverage. This allows us to provide an exact price for therapy if you have out of pocket expenses. You won't be hit with a large bill in the mail later on. Our clinicians strive to make therapy as affordable as possible, and our office staff handles all the insurance paperwork for you. Get the quality care you deserve at a price that suits your budget, right here in Green Bay, WI.
To Start Your Anxiety Treatment, Call Sherman Counseling In Green Bay, WI At 920-544-5294


Contact Sherman Counseling
Call 888-474-1344 and speak with one of our friendly intake specialists, or email us using the form below: