Best Psychiatrist In Green Bay WI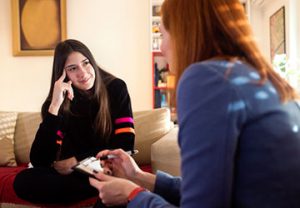 If you're in need of medication management or other psychiatric services, you may be searching for the best psychiatrist in Green Bay WI. Sherman Counseling provides therapy and psychiatry giving you access to completely comprehensive mental healthcare.
To schedule an appointment with one of the best psychiatrists in Green Bay WI, call 920-544-5294.
Should I See A Psychiatrist Or A Therapist?
This is a common question we hear when people first consider mental healthcare. What is the difference between a therapist and a psychiatrist? Which one is best suited for your needs?
A psychiatrist is a doctor of mental health. He or she can prescribe medication for depression treatment, bipolar disorder treatment, anxiety treatment, mood stabilization, and other treatment programs. A therapist is someone you can talk to about your struggles and experiences. The therapist helps you identify the root cause of your struggles and find personalized solutions for each of them.
Find the Right Mental Healthcare Plan, Designed Just for You
Share Your Story in a Confidential Setting
Therapy and Psychiatry in One Location
Hassle-Free Appointment Scheduling
Short-Term and Long-Term Treatment Solutions for Anxiety, Depression, Bipolar Disorder, Obsessive Compulsive Disorder, Mood Disorders, and More
Many clients start by working with a therapist. If medication is recommended for treatment, they will be referred to the best psychiatrist in Green Bay WI for their short-term or long-term needs. The experts here at Sherman Counseling will help you find the best treatment path for you. Contact us at 920-544-5294 to begin your journey.
We Accept Most Insurance Plans
Seeing the best psychiatrist in Green Bay WI doesn't have to cost a fortune. At Sherman Counseling, we accept insurance from Aetna, WPS Health Insurance, Network Health, Common Ground Healthcare Cooperative, BlueCross BlueShield, Humana, Arise Health Plan, WEA Trust, and other providers. When you contact our office, we can verify insurance to provide an exact cost of care. Most clients only pay a small co-pay for their psychiatry appointments.
To Schedule An Appointment With One Of The Best Psychiatrists In Green Bay WI, Call 920-544-5294


Contact Sherman Counseling
Call 888-474-1344 and speak with one of our friendly intake specialists, or email us using the form below: