Child Counseling In Wisconsin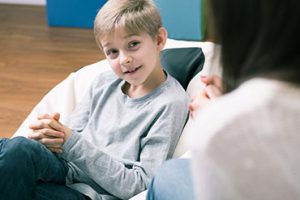 Sherman Counseling is a highly rated therapy group offering family counseling, couples counseling, and child counseling in Wisconsin. We have several locations to serve you, and we work with many insurance companies. Whether your child has struggled in school or has displayed uncharacteristic behavior, our child counselors in Wisconsin can assist you. We will match you with the best therapist for your child and your family. Contact us at 920-230-2065 to schedule an appointment.
Common Goals For Child Counseling In Wisconsin
Some parents seek child counseling in Wisconsin because of a referral from a peer or advisor. Others look for child counseling because they have a specific issue they would like to address. Child therapy is a personalized process that is adjusted to suit the needs of the child. The goals for your child may be different than those for someone else, but some of the most common focuses include:
Figure out Why a Child's Grades Have Dropped or Remained Low
Work through Emotions Associated with Anxiety, Depression, Grief, Anger, and More
Improve Self-Esteem and Self-Worth after Bullying
Teach Children How to Control Their Emotions and Actions
Empower Children to Set Goals in Their Lives and Embrace Responsibilities
Create Routines That Encourage Productivity and Positivity
Improve Relationships within the Family
Find Personalized Coping Strategies That Work for the Child's Personality
If you are interested in child counseling in Wisconsin, call us at 920-230-2065. We have offices in Appleton WI, Oshkosh WI, and Green Bay WI, with convenient hours and no time-consuming preauthorization.
An Insurance-Friendly Counseling Center
At Sherman Counseling, we believe therapy should be affordable and accessible. We are an unaffiliated counseling group, which means we can accept clients from any healthcare network. Our child counseling in Wisconsin is included in many insurance plans, including Aetna, BlueCross BlueShield, Network Health, Humana, WEA Trust, WPS Health Insurance, Arise Health Plan, Common Ground Healthcare Cooperative, and more. When you contact our office, we can verify insurance to provide an exact cost of care. Personalized care, transparent pricing, and effective therapy – that's what you'll get with Sherman Counseling.
If You Would Like To Learn More About Child Counseling In Wisconsin, Call 920-230-2065

Contact Sherman Counseling
Call 920-733-2065 and speak with one of our friendly intake specialists, or email us using the form below: