Child Counseling Near You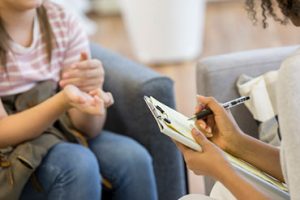 Does your child have unexplained issues in school? Have you noticed a change in behavior, such as defiance or social withdrawal? These are just some of the reasons you may seek child counseling near you. Sherman Counseling is a family-friendly therapist office that caters to all age groups. We provide psychological testing, counseling and psychiatry services through multiple locations.
If you'd like a consultation for child counseling, contact us at 920-733-2065. We will match your family with the best provider for your specific needs.
What To Expect From Child Counseling
The journey through child counseling is a little different for everyone. The overall goal is to identify the core reasons behind a child's struggles and find coping strategies to address them. For instance, if a child has school anxiety, a therapist can recommend schedule changes and lifestyle adjustments to reduce anxiety. If a child is being defiant, the counselor will look for the true source of the defiance (trauma, ADHD, a learning disability, etc.). Your child will receive personalized care that is specifically designed for him or her.
Personalized Care Customized for Your Child's Unique Needs
Your Family Will Be Matched with the Best Therapist for Your Child
Therapy Appointments Are Confidential and Free of Judgment
Children Feel Safe in Our Counseling Center
Get to the Root of Your Child's Struggles in School, at Home or in Social Settings
Learn How to Improve Your Child's Mental Health and Quality of Life
Your Child Will Better Understand His or Her Emotions
Coping Strategies Designed Specifically for Your Loved One
Affordable Family And Child Counseling Near You
Our family counseling and child counseling programs are compatible with insurance. Sherman Counseling is an in-network mental health provider for Network Health, Arise Health Plan, Aetna, BlueCross BlueShield, WPS Health Insurance, WEA Trust, Common Ground Healthcare Cooperative, Humana, and other insurance companies. We also accept plans with out-of-network coverage. Reach out if you would like us to verify your coverage.
For More Information About Child Counseling Near You, Contact Sherman Counseling | 920-733-2065

Contact Sherman Counseling
Call 920-733-2065 and speak with one of our friendly intake specialists, or email us using the form below: