Marriage Counseling In Wisconsin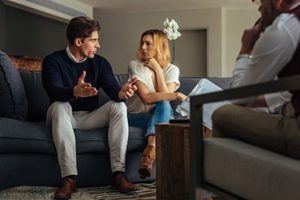 Disagreements happen in a marriage. This is not a secret. While some disputes may be unavoidable, most can be resolved with effective communication and achievable compromise.
These are some of the lessons we teach in our marriage counseling programs. We have several marriage counselors in Wisconsin who specialize in divorce prevention, premarital counseling, blended family counseling, conflict resolution, and more. No matter what obstacles you are facing in your marriage, you can work through your struggles in couples' therapy.
Contact Sherman Counseling to schedule an appointment with a marriage counselor near you.
Happy Husband. Happy Wife. Happy Life.
The saying goes: "happy wife, happy life." But you can't have a successful marriage if only one person is happy. The fact is that it takes two happy spouses to achieve a fulfilling relationship. Our marriage counseling programs in Wisconsin focus on conflict resolution, trust building, and open communication – the cornerstones of long-lasting marriages. We want both of you to feel proud of your marriage as you make compromises and accomplish goals together.
Marriage counseling is a personalized process. Your counselor will provide tips, tools and strategies specifically for you marriage. Along the way, you will…
Work through Recurring Conflicts in Your Marriage
Stop Circular Arguments by Identifying the Root Cause of Your Disputes
Learn How to Communicate Your Thoughts and Feelings Effectively
Understand Why Your Spouse Thinks, Acts and Reacts in Certain Ways
Support One Another and Strengthen Your Bond as a Couple
Find Compromises You Can Actually Stick to
Set Goals for Your Marriage and Your Family Life
Work with an Experienced Marriage Counseling Experts in Wisconsin
Tackle Intimacy Issues, Low Self-Esteem, Anger, Mistrust, and Other Obstacles in Your Marriage
Enjoy the Quality of Life You Deserve
Marriage counseling is completely confidential, and your therapist will never judge you or your spouse. Call one of our therapist offices in Wisconsin to set up an appointment for couples counseling.
Marriage Counseling For Every Stage Of Your Matrimony
Every milestone in your marriage brings about new challenges. Getting married, starting a family, buying a house, changing jobs – these are just some of the hurdles you will overcome together. At Sherman Counseling in Wisconsin, we offer marriage counseling services for each phase of your relationship. This includes premarital counseling, divorce prevention, and counseling after infidelity. Get the guidance you need to rebuild your relationship and keep it running strong for years to come. Our marriage counselors will be here every step of the way.
Contact Sherman Counseling In Wisconsin To Learn About Marriage Counseling Near You


Contact Sherman Counseling
Call 920-733-2065 and speak with one of our friendly intake specialists, or email us using the form below: