Marriage Counseling Near You
Every marriage has its struggles. Whether you've been together for days or decades, there are going to be hurdles to overcome. Marriage counseling is a platform to work through those hurdles together. You can learn how to communicate effectively, how to resolve conflicts efficiently, and how to create balance in your relationship.
Sherman Counseling offers confidential marriage counseling near you. Our services include: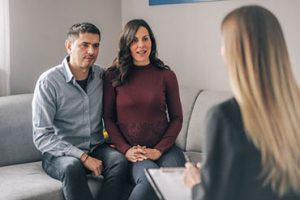 Evidence-Based Divorce Prevention Solutions
Communication Building for Any Type of Relationship
Couples Counseling and Pre-Marriage Counseling Services
Faith-Based Marriage Counseling
Co-Parenting Counseling and Post-Divorce Counseling
Family Counseling, Including Blended Family Counseling
And Other Marriage Counseling Programs near You
If you would like more information about marriage counseling, contact us at 920-733-2065. Our offices are open Monday through Friday, 8:00 AM to 5:00 PM.
Completely Confidential Marriage Counseling Near You
One of the biggest reasons why couples are hesitant about marriage counseling is because they're afraid of judgment or privacy issues. Our marriage counselors use strict privacy protocols to ensure your information remains confidential. You will never be judged for your marital struggles, even in the face of potential divorce. We want you to overcome these struggles, and the best way to do that is by opening up.
Your Privacy Is Protected
Share Your Relationship Struggles without Fear of Judgment
Get Advice That Is Personalized for Your Marriage
Find a Balance of Time, Responsibility and Boundaries That Works Well for You
Get Positive Support from a Licensed Marriage Counselor
Overcome Difficult Hurdles in Your Marriage with Tested and Proven Solutions
Learn How to Talk to Your Spouse in an Effective Way
Build a Path of Communication That Prevents Arguments and Reduces Stress
Uncover the Root Cause of Marital Issues and Tackle Them Head-on
We accept insurance from WPS Health Insurance, Aetna, Network Health, BlueCross BlueShield, Humana, Common Ground Healthcare Cooperative, Arise Health Plan, WEA Trust, and other providers. Contact Sherman Counseling at 920-733-2065 to learn more about marriage counseling near you.
Many Couples Use A Combination Of Individual And Marriage Counseling
Many of the couples we serve use a combination of counseling services. They may attend individual counseling sessions to talk about struggles in their personal lives. Then they attend marriage counseling together to work on their relationship. If this is a setup you are interested in, we will gladly accommodate you.
For More Information About Marriage Counseling Near You, Give Us A Call At 920-733-2065

Contact Sherman Counseling
Call 920-733-2065 and speak with one of our friendly intake specialists, or email us using the form below: