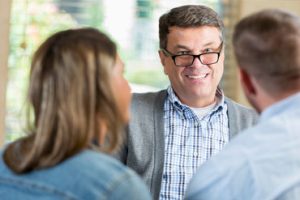 If you're looking for a therapist in Oshkosh, WI, Sherman Counseling is here to assist you. We have mental health professionals in many specialties, including anxiety treatment, depression treatment, child counseling, couples counseling, family counseling, and more. We will pair you with the best therapist for your needs so you can receive top-quality care right from the start.
To begin this process, simply give us a call at 920-230-2065. We will ask a few questions to figure out which Oshkosh therapist is right for you. Then we will schedule an appointment time that works for you.
An Insurance-Friendly Therapist Office In Oshkosh, WI
When we opened our counseling centers years ago, we wanted to make mental health care attainable for everyone. Sherman Counseling is an unaffiliated therapist office in Oshkosh, WI, which means that we can work with almost any insurance provider. Our therapists are in-network for many insurance companies, and we also provide out-of-network care when applicable. We will handle all the paperwork for you.
You can see a therapist in Oshkosh, WI with any of the following insurance plans:
Humana Insurance
BlueCross BlueShield of Illinois
WPS Health Insurance
Arise Health Plan Insurance
Network Health Insurance
Aetna Health Insurance
Common Ground Healthcare Cooperative
WEA Trust Insurance
And Other Health Insurance Plans with Mental Health Coverage
To find out what the cost of your mental health care would be, call 920-230-2065. We provide transparent pricing with no hidden fees, and we will verify your insurance before you see your therapist. Affordable therapy is closer than you think, right here in Oshkosh, WI.
See A Therapist Right Away – Same Week Or Next Day Appointments Available
As an unaffiliated therapist office, we don't have to abide by lengthy preauthorization processes. Many clients are able to see a therapist the same week or even the next day, depending on who they're working with. You won't have to get a referral from a doctor that sometimes takes weeks to obtain. We want you to speak with a counselor as quickly as possible. Contact our Oshkosh, WI counseling center to learn more.
Schedule An Appointment With A Licensed Therapist In Oshkosh, WI | Call 920-230-2065


Contact Sherman Counseling
Call 920-733-2065 and speak with one of our friendly intake specialists, or email us using the form below: